20th Jan 2021
Bibi Badejo (Founder and Host) and Justin Tadros (Co-Creator) are part of the team launching The Advocacy Podcast: Journeys To Excellence.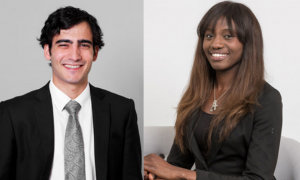 It focuses on trial advocacy and is motivated by a desire to learn and share insights from the best trial lawyers from several jurisdictions, including England and Wales, the United States, Australia and New Zealand. You can listen to the trailer and subscribe here or visit the website at www.theadvocacypodcast.com for more information.
There will be 12 episodes in this first season with the first three released Wednesday 20th January and then one episode released each Wednesday following.
The interviewees include silks, 'super lawyers', and a Court of Appeal Judge from across different jurisdictions and specialist practice areas. Topics include cross-examination, case strategy, the neurology of trials, the soft skills of advocacy, and much more.